ART MEETS LIFESTYLE
Ik ben er zeker van dat jullie Komono, het Belgische lifestylemerk met horloges en zonnebrillen, al wel kennen. Wat jullie misschien nog niet weten is dat ze bij Komono van kunst houden. En laat het nu eens toeval zijn dat ook ik van lifestyle & kunst hou!
Komono slaat de handen in elkaar met Andy Rementer, een jonge kunstenaar & illustrator die op het punt staat om door te breken. Rementers werk fascineert velen omwille van zijn levendigheid en speelsheid. Hij maakt cartooneske creaties voor verschillende disciplines zoals illustratie, kunst, beeldhouwkunst, design en veel meer: Iedereen wil met Rementer samenwerken! Het is trouwens niet de eerste keer dat Komono een "curated" collectie op de markt brengt. Vorig jaar nog toonden ze ons de prachtige uurwerken met prints van Jean-Michel Basquiat, de neo-expressionistisch kunstenaar die helaas al in 1988 is overleden. Komono wil met hun arty collectie elke keer iets compleet anders doen, gaande van hyperbekende kunstenaars tot beginnende talenten. Dat betekent dat je jaar op jaar iets onverwachts te zien zal krijgen.
Wat ik zo leuk vind aan de illustraties van Rementer is dat ze heel vrolijk en kleurrijk zijn. Als je goed kijkt zie je ook dat hij veel pastelkleuren gebruikt tussen de zwarte lijnen en daar staat ie bekend om (Jaja, ik heb m'n huiswerk gedaan :) ). Nog een reden waarom ik fan ben, is omdat ik hou van pop art en jaren '80 kunst. Die invloeden zijn duidelijk zichtbaar en dan vooral van de impact van de beroemde Keith Haring! Ook liefhebbers van street art kunnen vallen op deze horlogelijn: het straatkunstgehalte is hoog en Rementer beeldt vaak het stadsleven af.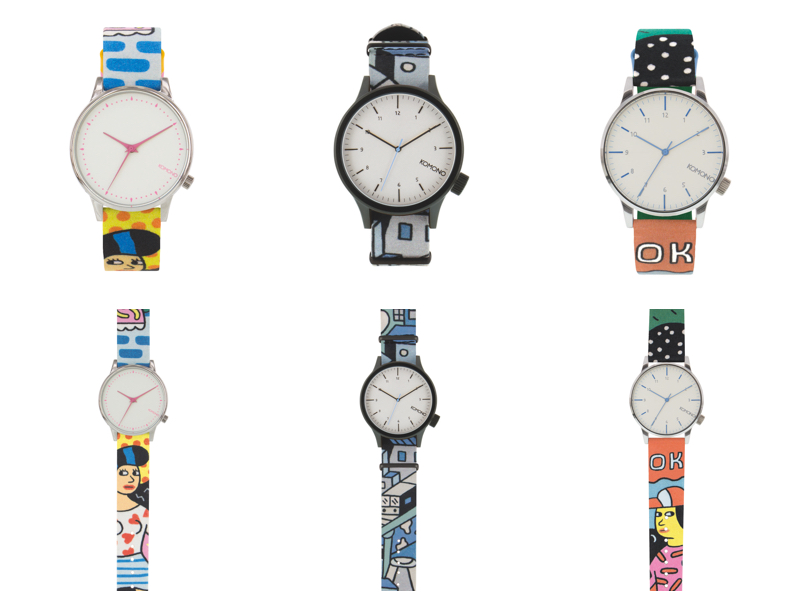 Vanaf zaterdag 30 mei kan je de ANDY REMENTER X KOMONO collectie bemachtigen. Ga naar de Komono by Your winkel, één van de Komono verkooppunten of www.komono.com. Ik mocht bovendien enkele vraagjes stellen aan Andy Rementer en het resultaat daarvan lees je hieronder in het (Engelstalige) interview.
Mijn favoriet van deze collectie is trouwens "Estelle", dat is de horloge die je hierboven ziet met het meisje, de zachte kleuren en de roze uurwijzers. Welk stuk vind jij het leukst?

SPECIAL: INTERVIEW MET ANDY REMENTER
WHERE DO YOU FIND INSPIRATION FOR YOUR ARTWORKS & ILLUSTRATIONS AND MORE SPECIFIC, FOR THE DESIGNS YOU MADE FOR KOMONO?
My work is very influenced by the city, characters, color and relationships. So, I brought those elements together along with some subtle storytelling to connect the watches in a fun way. There's something appealing about getting lost in a new city, so there is a little bit of that feeling in the watches as well.
HOW WOULD YOU DESCRIBE YOUR STYLE?
Personally I'm quite basic when it comes to my style. I like to wear solid colors, and usually stick to black and blue for some reason. I like having a bold accent with bright socks and the colorful Komono watches are also a perfect thing to mix it up too. I wear glasses too, which is a nice everyday accessory I guess.
WHICH TOOLS DO YOU PREFER? (PENS, PAINT, GRAFITTI, COMPUTER)
I do everything by hand as much as possible. Whether it's an illustration or painting, everything starts by drawing. I keep a sketchbook that I draw in everyday with a technical pen, it's nice because you can refill it with black ink. For my paintings I've been working with acrylic for many years, and am now using oil paints. So I'm slowly going back in time with my mediums for some reason!
WHICH WERE YOUR FAVORITE ASSIGNMENTS AS AN ARTIST/ILLUSTRATOR UNTIL NOW (APART FROM DESIGNING FOR KOMONO)?
The Komono collaboration is a very special project for me, as it's not everyday you get to make designs for well made watches. My People Blocks series of wooden sculptures with Case Studyo has been another highlight, as it was really fun to take my work into 3D realm.
---
© foto's: Komono & Andy Rementer